PLC Supporting Member Weekly Update Jan. 21, 2022
Logger's Voice Winter 2022!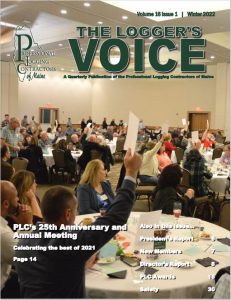 The Winter 2022 edition of The Logger's Voice is now available!
PLC Online Store
Looking for great PLC items and apparel? Gifts? First Aid packs, safety items and more? You will find them at the new PLC Online Store on our web site. Ordering is easy.
New Hump Day Safety Video – Safety Glasses!
New Unsafe Zone Safety Video – Tony Madden: Safety Glasses!
*This video pairs well with the new HumpDay video above. Share them both with your employees!

MaineDOT Releases Three-Year Work Plan
AUGUSTA – The Maine Department of Transportation has released the 2022 Edition of its three-year Work Plan. This Work Plan includes all capital projects and programs, maintenance and operations activities, planning initiatives, and administrative functions for calendar years 2022, 2023, and 2024. This plan contains 2,316 individual work items with a total value of $3.17 billion, consisting primarily of work delivered or coordinated through MaineDOT.
Ceremony marks manufacturing's return to former mill in Madison
MADISON — Gov. Janet Mills joined executives Thursday from Belfast-based GO Lab Inc. and others for a ceremony that officials said marked the return of wood products manufacturing to the former Madison Paper Industries mill.
Tree-killing beetle found in Maine forests, scientists say
A Southern pine beetle has found its way to Maine, potentially endangering the ecosystem of the state's forests, scientists say.
TRUCKING DISCOUNTS THROUGH THE ALC!
PLC Members, because the PLC is a member of the American Loggers Council YOU are entitled to special discounts on truck purchases! Click on the brand names below to learn more!
—
Fabian Oil Discount
Traction Heavy Duty Special
Wallingford's Discounts
Maine Trailer Discounts
Scandinavian Forestry Equipment
PLC Members get a 5% discount on culverts purchased at Treeline and Frank Martin & Sons
Hale Trailer discounts for PLC Members on new trailer purchases! Call Neal at 207-232-7969 for details!
Cross Arena Discounts for PLC!

Check out the equipment and job opportunities our members have listed at the LOGGING ZONE! If you have equipment for sale, are looking to buy, are looking for employees, or
Preferred Supporting Members
Enhanced Supporting Members