PLC Supporting Member Weekly Update March 4, 2022
PLC Annual Meeting 2022: May 13
SAVE THE DATE!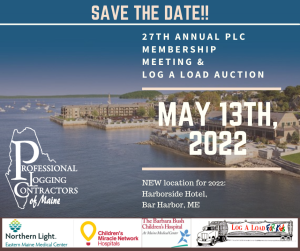 Members and Supporting Members, we are pleased to announce plans to hold the PLC's Annual Meeting and Log A Load for Maine Kids live auction this year on May 13 at a new location, the Harborside Hotel, Spa, and Marina in Bar Harbor!
Please save the date for this important event and many more details will be released soon along with sponsorship opportunities!
MLOP Program Now Recruiting Students for Summer 2022!
*Two instructors also being sought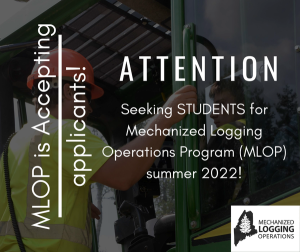 The Mechanized Logging Operations Program is now accepting applications for the 2022 Class starting in June of 2022. If you know of anyone who may have an interest in the program they can apply at the link below. You may also encourage them to call, text or email MLOP Coordinator Donald Burr at 207-356-1541 or dburr@nmcc.edu to learn more.
*MLOP is also seeking two instructors for the program! One instructor will need delimber experience and the other feller buncher experience. Contact Donald Burr at 207-356-1541 or dburr@nmcc.edu to learn more!
PLC Online Store
Looking for great PLC items and apparel? Gifts? First Aid packs, safety items and more? You will find them at the new PLC Online Store on our web site. Ordering is easy.
PLC Logger Safety and Fleet Trainings 2022 REGISTER NOW!
The PLC is pleased to offer Logger, Fleet, CPR and Dynamic Driving Safety Training for its members in person for 2022! Please review our Logger and Fleet offerings and register as soon as possible, but no later than March 25, 2022 to ensure there is room for your employees at the chosen location(s). Trainings run from March 31 to May 25, 2022.
You may REGISTER ONLINE HERE, or download, fill out and mail back the paper registration form Safety Registration 2022 – Form.  A hardcopy has also been sent to your office. Via US mail.
This training is free to employees and owners of all PLC Member companies and Maine Master Logger companies! Lunch is provided, and we have added new topics based on feedback received from PLC Members. Don't miss out, register NOW!
The PLC would also like to thank our sponsors of the 2022 Safety Trainings below. We could not offer these trainings without you!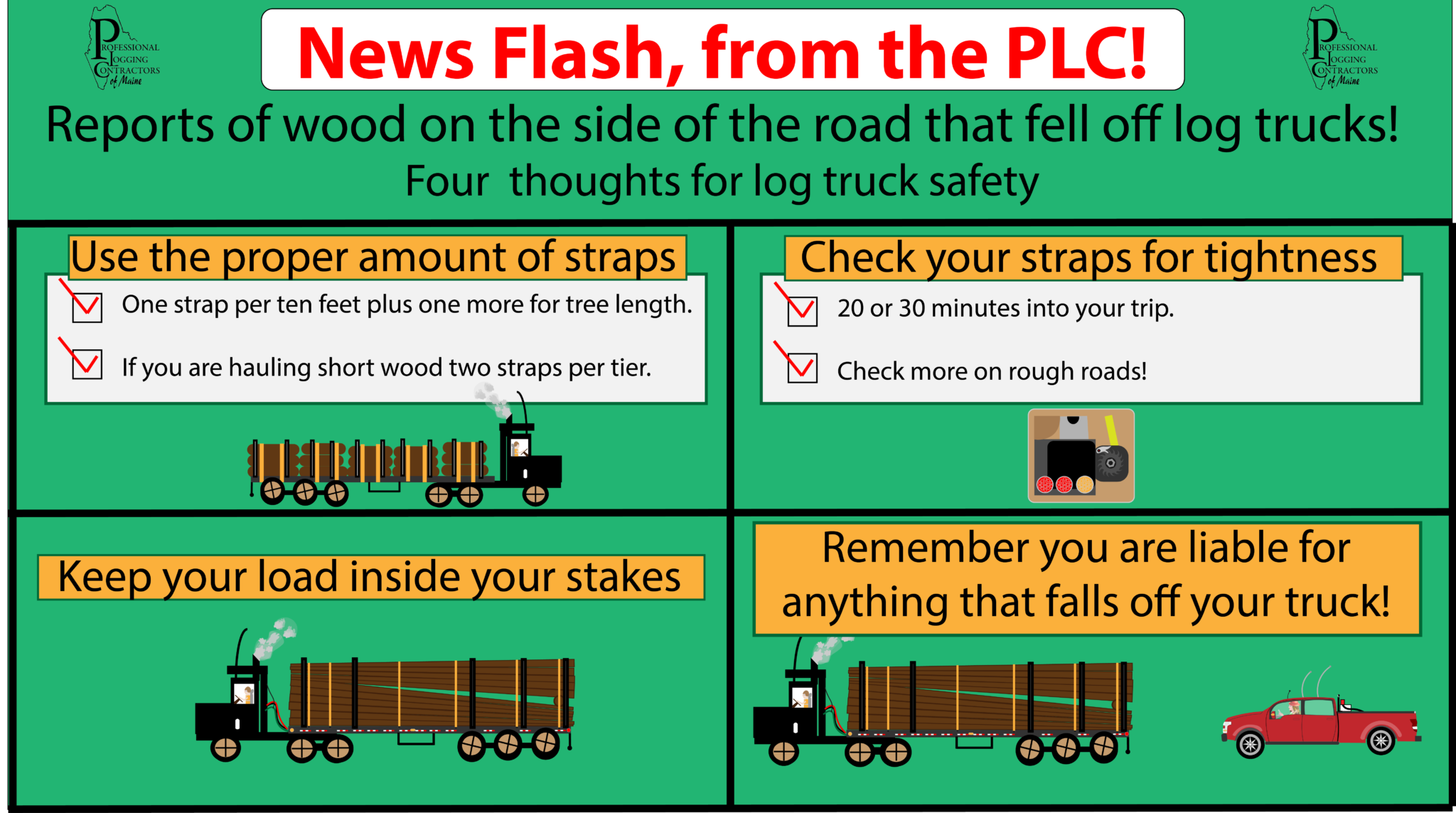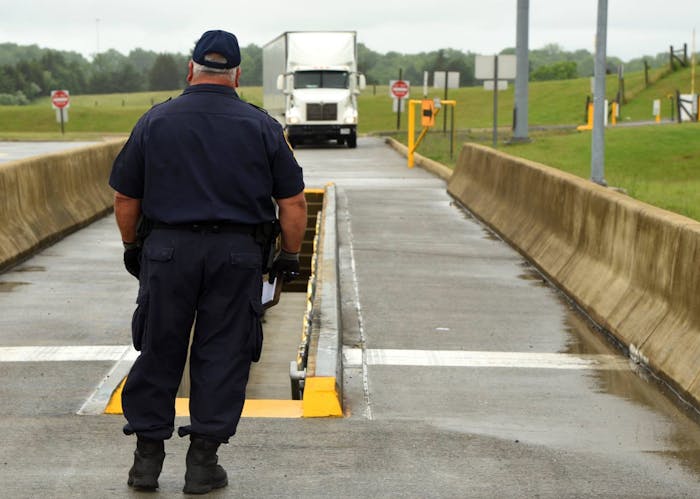 Roadcheck inspection 2022 blitz is May 17-19
You have about 90 days to get ready for the annual inspection blitz aimed at commercial vehicles.
The Commercial Vehicle Safety Alliance has announced this year's International Roadcheck dates ar May 17-19, and will have a focus on wheel ends.
FMCSA Launches Training Provider Registry to Ensure Entry-Level Truck and Bus Drivers Complete Training that Meets New Federal Standards
WASHINGTON – The U.S. Department of Transportation's Federal Motor Carrier Safety Administration (FMCSA) launched its Training Provider Registry as the final step in implementing new entry-level driver training standards for individuals seeking to obtain a commercial driver's license (CDL) or certain endorsements.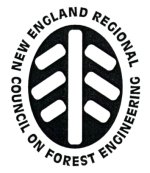 PLC Members are encouraged to register for the upcoming New England Region Council on Forest Engineering(NER.COFE) workshop.  PLC Executive Director Dana Doran will be the first speaker. The workshop will be held Monday April 11 and Tuesday April 12, at Jeff's Catering in Brewer.
TRUCKING DISCOUNTS THROUGH THE ALC!
PLC Members, because the PLC is a member of the American Loggers Council YOU are entitled to special discounts on truck purchases! Click on the brand names below to learn more!
—
Fabian Oil Discount
Traction Heavy Duty Special
Wallingford's Discounts
Maine Trailer Discounts
Scandinavian Forestry Equipment
PLC Members get a 5% discount on culverts purchased at Treeline and Frank Martin & Sons
Hale Trailer discounts for PLC Members on new trailer purchases! Call Neal at 207-232-7969 for details!
Cross Arena Discounts for PLC!

Check out the equipment and job opportunities our members have listed at the LOGGING ZONE! If you have equipment for sale, are looking to buy, are looking for employees, or
Preferred Supporting Members
Enhanced Supporting Members