PERU, ME – Andy Irish, a founding member of the Professional Logging Contractors (PLC) of Maine, was sworn in as President of the American Logger's Council (ALC) Saturday, Sept. 24 at the ALC's Annual Meeting in Branson, Missouri.
Irish, who has been an ALC delegate representing Maine for nearly two decades, became the third Maine President for the ALC since it was founded in 1994. He accepted the position at the President's farewell banquet, replacing outgoing President Tim Christopherson of Idaho, and thanking the loggers in attendance for being involved with the ALC at a time of great challenges in the logging industry.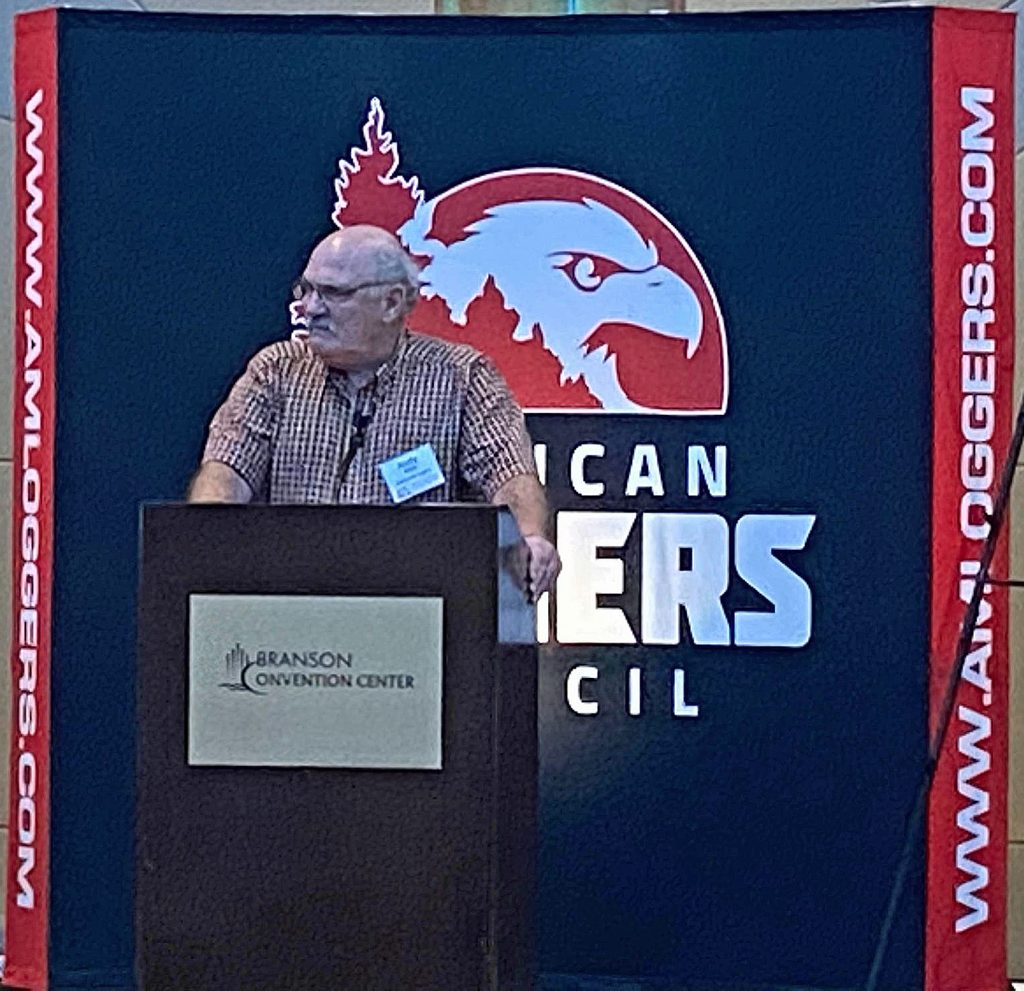 "Thank you for being here," Irish said. "We're at a place in our industry where we have the chance to either move forward, or go backwards really fast, so we appreciate all the help from everybody."
Irish has been logging since the 1970s and founded Irish Family Logging in 1984. Today, he shares ownership of the Peru-based business with son Jason Irish and son-in-law Dean Knowles. He has been a board member of the PLC since it began in 1995.
"Andy is a great logger with many years of experience in the business and has always stepped up to lead on behalf of loggers here in Maine and beyond whenever he was needed," PLC Executive Director Dana Doran, who attended the ALC meeting, said. "Both the ALC and PLC are fortunate to have him, and I have no doubt he will represent the interests of the industry well in his new role."
Irish is the first ALC president from Maine since PLC Board Member Steve Hanington finished his term as ALC President in 2004. Irish will serve for one year, with his term ending in the fall of 2023, when Maine will host the ALC Annual Meeting at Sunday River in October 2023.
Irish has experienced the same ups and downs and changes common to most loggers who have been in the business since the industry began transitioning from traditional logging with chainsaws to fully mechanized logging. Irish Family Logging crews operate primarily in the hills and mountainous terrain of Western Maine, often on commercial timberlands. The company has weathered the markets and adapted to the changes and the loss of paper mills as many other logging firms have dwindled or disappeared entirely.
Irish got involved early with efforts to form the PLC and ALC in the mid-1990s as loggers nationwide realized they needed their own organizations to represent their interests. He began attending ALC meetings two decades ago and worked with the late Harold Bouchard, who was a driving force behind formation of both the PLC and ALC, on those efforts. Dick Schneider was Maine's first delegate to the ALC, Steve Hanington became the second when Schneider stepped down, and Andy stepped up as delegate when Hanington completed his term on the Executive Board in 2005 after serving as President the previous year. Irish has served on the Executive Board for the past three years.
Hanington said serving on the board represents a big commitment of time and energy for anyone running a logging business, but Andy is not the sort to complain about conditions in the industry and do nothing, he steps up and tries to make things better.
"I've been friends with Andy for a long time and I have a lot of respect for him, and I really commend him for his service," Hanington said.
For his part, Irish said serving on the ALC board has given he and his wife Kathy some great experiences as the meetings move around the nation and draw people from the industry together who would otherwise never have met.
"We've met some awfully nice people and we've seen some really nice places, a lot of places we'd probably never have gone if it hadn't been for that you know?" Irish said. "Next year everybody is pretty excited to come to the meeting in Maine, a lot of them have never been here."
Irish Family Logging is a Master Logger Certified® company.
Maine's loggers are a vital part of the state's forest products sector, which is worth an estimated $7.7 billion annually. Logging contributed an estimated $619 million to the state economy in 2017.
Founded in 1995 with a handful of members who were concerned about the future of the industry, the PLC has grown steadily to become a statewide trade association which provides independent logging contractors a voice in the rapidly changing forest products industry. Board membership consists of only loggers, making it an organization that is run by loggers on behalf of loggers. PLC members are responsible for cutting 75 percent of the timber that is harvested from Maine's forests annually. Learn more about the PLC at www.maineloggers.com