Membership Eligibility:
Logging Contractor: responsible for timber harvesting from stump to roadside – eligible for Board Membership, voting member, insurance dividend eligible.
Affiliated Contractor:  includes sole proprietor w/ pre-determination letter (must be Master Logger certified), owner-operator/sub-contractor, chipping contractor, grinding contractor, slashing contractor or chip mill – not eligible for Board membership, voting member, dividend eligible.
Forest Contractor:   trucking only or forest road construction, 50% or more of business is from forestry operations – not eligible for Board membership, voting member, dividend eligible.
Access to the PLC Safety Dividend Program with Acadia Insurance* this is an insurance program where logging companies and sole proprietors can be rewarded for having a safe workplace by receiving sustainable refunds of their insurance premium, to date this PLC Plan has returned over $6 Million to our members' bottom line!   Acadia Dividend Program 
Membership in the American Loggers Council, PLC is one of the founding members. You can access ALC Loggers online—www.amloggers.com 
Access to the Loggers Voice – Our newsletter that strives to raise the level of professionalism within the logging community in Maine. Gain from Legislative Updates, Safety Suggestions as well as the latest happenings within our industry.
Supporting Member discounts for PLC Members- See list below
PLC provides strong representation and advocacy in Augusta and nationally on key issues affecting your business. You will receive timely email updates and PLC IMPACT explaining current legislation, what PLC is doing on your behalf and actions you can take to help.
Take advantage of FREE Safety Training and other Workshops providing an opportunity to network with other loggers, vendors and associates who share a vested interest in the success of our industry.
PLUS…advertise on our website in the LOGGINGZONE, a great space to advertise equipment for sale or job opportunities. Free to Members!
* Participation in the Acadia Insurance Dividend Plan subject to underwriting approval, speak with your insurance agent for more information.
PLC Member Only Discounts:
Anderson Equipment: 3% online parts ordering discount including free ground freight (on orders over $300 and weighing under 75 lbs.)
•Brenntag Lubricants Northeast: No Charge Loaned Diesel Exhaust Fluid Electric Pump/Meter/Tote with Brenntag UltraPure DEF Bulk Supply Agreement.
•Canadian Chains: Free shipping on chains to PLC Members.
•Daigle & Houghton: International – Up to a $4000 rebate offered to PLC of Maine Members, available at participating dealers.
•Dennison Lubricants: Free Pail of Oilzum Bar & Chain Oil with the purchase of a Rotella T4, T5 or T6 Drum.
•Dow Enterprises: Get $350 off select Karcher Pressure Washers.
•Fabian: Call 207-465-2000 for special PLC members and their employees home heating pricing.
•FA Peabody: Free Workers Compensation Modification Review.
•Freightliner of Maine: Western Star- Up to a $3000 rebate offered to PLC of Maine Members, available at all participating dealers.
•HALE Trailer: PLC Member Pricing call Neal for details 207-772-8272.
•Maine Pellet Fuels Association: 20% off Membership for PLC Members.
•Maine Timber Mats: Exclusive PLC Member pricing on timber mats.
•Maine Trailer: *10% DISCOUNT* On all Load Straps, Winches, and Cables for PLC Members; *FREE* Log Trailer Inspection with Sticker.
•Pelletier Manufacturing: 10% discount on all Pelletier Manufactured parts & free inspections on any Pelletier Log Trailer purchased 2020 or after.
•Readfield Ins Agency: Free, no obligation review of your current insurance program and coverage .
•SFE- Scandinavian Forestry Equipment: EcoLog Rebates from $20,000-$35,000 on all in stock Harvesters and Forwarders.
•Soleno: Offering 5% member discount through Treeline, Inc..
•Wallingford's Inc.: Exclusive member benefits for PLC members! Please call for details.
•Whited Peterbilt of Maine: Peterbilt – Up to a $2000 rebate offered to PLC of Maine Members, available at participating dealers.
•Windy Ridge: Free shipping on tire chains – for PLC of Maine members only.
MEMBERS RECEIVE A $1,000 – $4,000 REBATE ON CV, MV, HV & HX MODELS. REBATE AMOUNT IS BASED ON TRUCK MODEL & CONFIGURATION. NOV 2020 – OCT 2021.
MEMBERS RECEIVE A $2,000 CASH REBATE ON MODELS 567, 367, OR 365. LIMITED TO THREE (3) REBATES PER MEMBER FOR CALENDAR YEAR 2021.
REBATE AMOUNT IS BASED ON TRUCK MODEL & CONFIGURATION. $3,000 FOR 49X OR 4900 MODEL WITH VEHICLE SERVICE CODE OF A85-012, LOGGING SERVICE TRUCK.
Fabian Oil Discount – Call 207-465-2000 – for Company owners and employees: mention you are a PLC member
Maine Trailer Discounts
Scandinavian Forestry Equipment
Wallingford's Inc.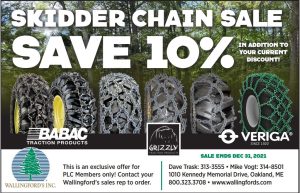 ---
PLC Members get a 5% discount on culverts purchased at Treeline and Frank Martin & Sons
Hale Trailer discounts for PLC Members on new trailer purchases! Call Neal at 207-232-7969 for details!
---