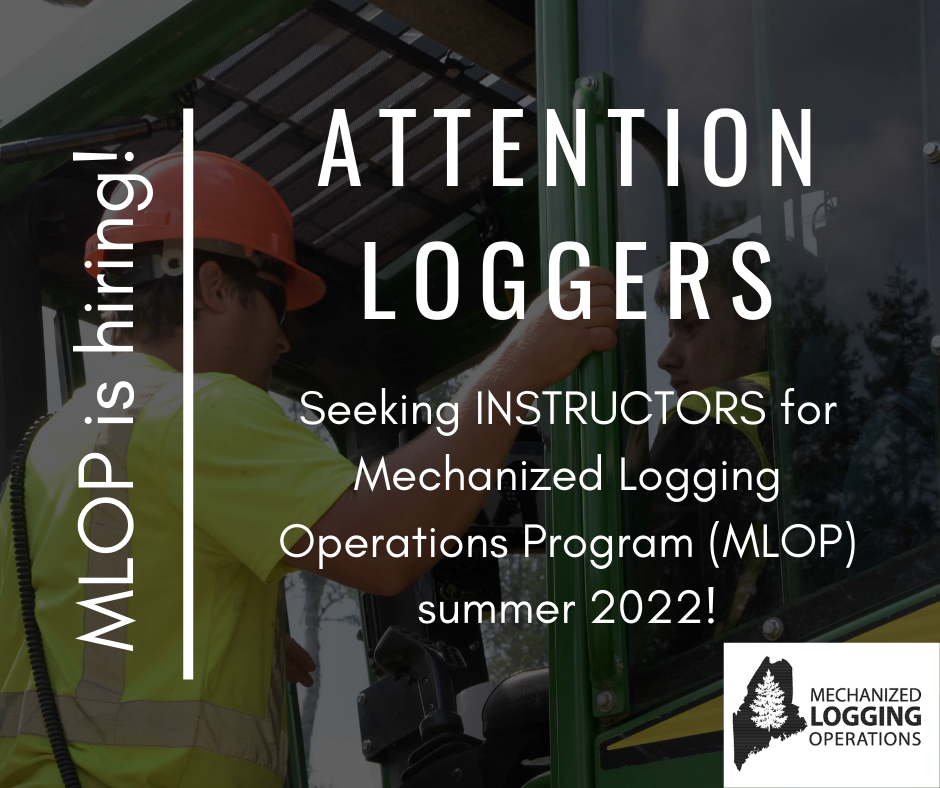 Seeking instructors for Mechanized Logging Operations Program (MLOP)!
The PLC started the Mechanized Logging Operations Program (MLOP) three years ago to create a pipeline of new operators for Maine logging companies to hire and this summer there is a great opportunity available for good operators to gain some professional development experience and work directly with/for MLOP as a paid instructor through Northern Maine Community College.
This is not going to be a typical summer for all logging contractors in the woods and here is an option for them in these challenging times to encourage a good employee to share their knowledge knowing that they will be back in the fall, when things should be improving. MLOP is looking for good mechanical loggers to come and instruct for 14 weeks this summer in the Old Town area. Instructors are needed from mid-June to end of September (MLOP can be flexible on the start & end dates).
Skills needed for these positions are in tree-length logging (feller buncher & stroke delimber). Instructors do not need to have knowledge in all the equipment, just at least two pieces of equipment. They need to be safety-minded, patient and willing to share what they know with logging students ages 18 – 45.
The instructors work 60 hrs. a week (four 13hr. days & one 8hr day (Friday) for ten weeks and 40 hrs. for four weeks (Again the start and end dates can be flexible). Pay is based on experience and the college will pay for all living expenses if an instructor lives too far from home to commute to the job. Transportation is also provided to/from the jobsite.
For interested employees, please send a resume, at least 3 professional references and a cover letter indicating how your qualifications and experience have prepared you for this position to the Human Resources Coordinator, Northern Maine Community College, 33 Edgemont Drive Presque Isle ME 04769 or email it to: dburr@nmcc.edu
Come help and invest in the loggers of tomorrow by sending a good employee for the summer to MLOP. If you have any questions or need further information, please do not hesitate to contact the PLC at (207) 688-8195 or dburr@nmcc.edu.