PLC Supporting Member Weekly Update Dec. 16, 2022
PLC Christmas Ornaments to Benefit Log A Load for Kids!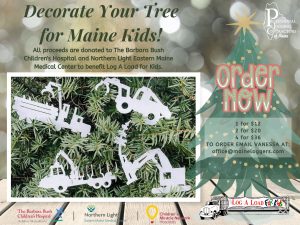 Add some sparkle to your tree with PLC's very own Logging Christmas Ornaments, this year in a new color – Iridescent White!!
100% of the proceeds from the sale of these ornaments go to our Log-A-Load for Maine Kids fund-raising efforts to benefit Maine's Children's Miracle Network Hospitals: The Barbara Bush Children's Hospital and Northern Light Eastern Maine Medical Center.
These high quality ornaments are made in Maine and with durable metal construction, will last for many years! Don't wait, these ornaments sell out every year, so make sure you order yours TODAY!
Price:
1 for $12
2 for $20
4 for $36
To learn more or to order online CLICK HERE
You may also order directly by emailing Vanessa at office@maineloggers.com. Order now!
Save the Date and Reserve Rooms Now!
PLC Annual Meeting May 4-5 2023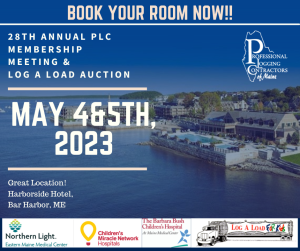 It is not too early to start thinking about the 2023 PLC Annual Meeting and Log A Load Auction! The meeting will be held May 4-5 2023 at the Harborside Hotel in Bar Harbor. Rooms are already available to book so why not reserve a room now?
Click here to book a room or use: https://www.opalcollection.com/harborside/stay/
Group Code: MEPL050423
Steps to reserve a room at the Harborside Hotel:
Click on Link (can also type in the group code)
At the top of the web site modify the dates of your stay – 1 or 2 nights
You will not be charged until the event and the resort fee will be waived
 Questions? Email office@maineloggers.com
PLC Online Store
Looking for great PLC items and apparel? Gifts? First Aid packs, safety items and more? You will find them at the new PLC Online Store on our web site. Ordering is easy.
CPR/First Aid/Bloodborne Pathogens certification: Did you know your employees are required to have this training every two years? If your employees need this training in 2022, contact Jessica at Jessica@maineloggers.com or 207-688-8195 and the PLC will schedule training in your area. THIS TRAINING IS FREE TO MEMBERS!
NEW

Featured HumpDay Safety Video – Working Focused
Now FREE to Maine Loggers! A $300 value!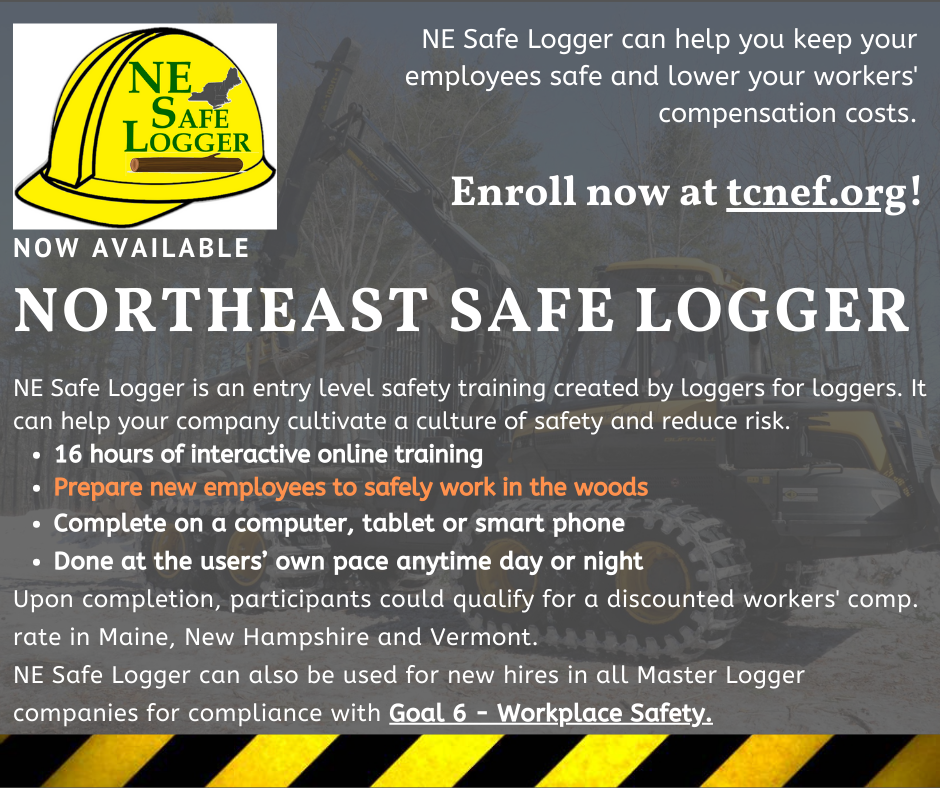 Last 3G Sunset Date Is December 31, 2022
Mobile carriers are shutting down their 3G networks, which may impact motor carriers if their ELDs rely on a 3G network. Read more about the 3G sunset.
The final announced 3G sunset date is December 31, 2022, when Verizon will complete the shutdown of its 3G network.
Any ELD that requires 3G cellular connectivity to perform its functionality will no longer be in compliance with the technical specifications in the ELD rule after the 3G network it relies on is sunset.
When in an area that does not support 3G, a 3G device will register a malfunction. In accordance with 49 CFR 395.34, the carrier has 8 days to get the malfunction resolved, in this case by replacement, unless an extension is granted.
Stillwater Ave. Bridge Closing
OLD TOWN – The Maine Department of Transportation will be closing the Stillwater Avenue (Llewellyn Estes) Bridge in Old Town to all traffic from approximately 10:00 p.m. on Thursday, December 15th to approximately 4:00 a.m. on Friday, December 16th. This closure is necessary while the Old Town Water District secures a water pipe that is hanging underneath the bridge. There will be a detour in place during this closure. The length of the maximum detour is approximately 4.8 miles and involves driving through Orono via Bennoch Road (Route 16), Route 2, and College Avenue. More overnight closures may be required next week for the water district to take further steps to secure the pipe.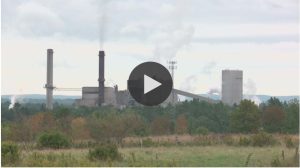 University of Maine researchers discover new uses for paper mill products
Researchers at the University of Maine are studying new applications for paper mill products. Liza White, UMaine biomedical engineering graduate student and Rumford native, grew up seeing the potential threat of closure to the mill in her hometown.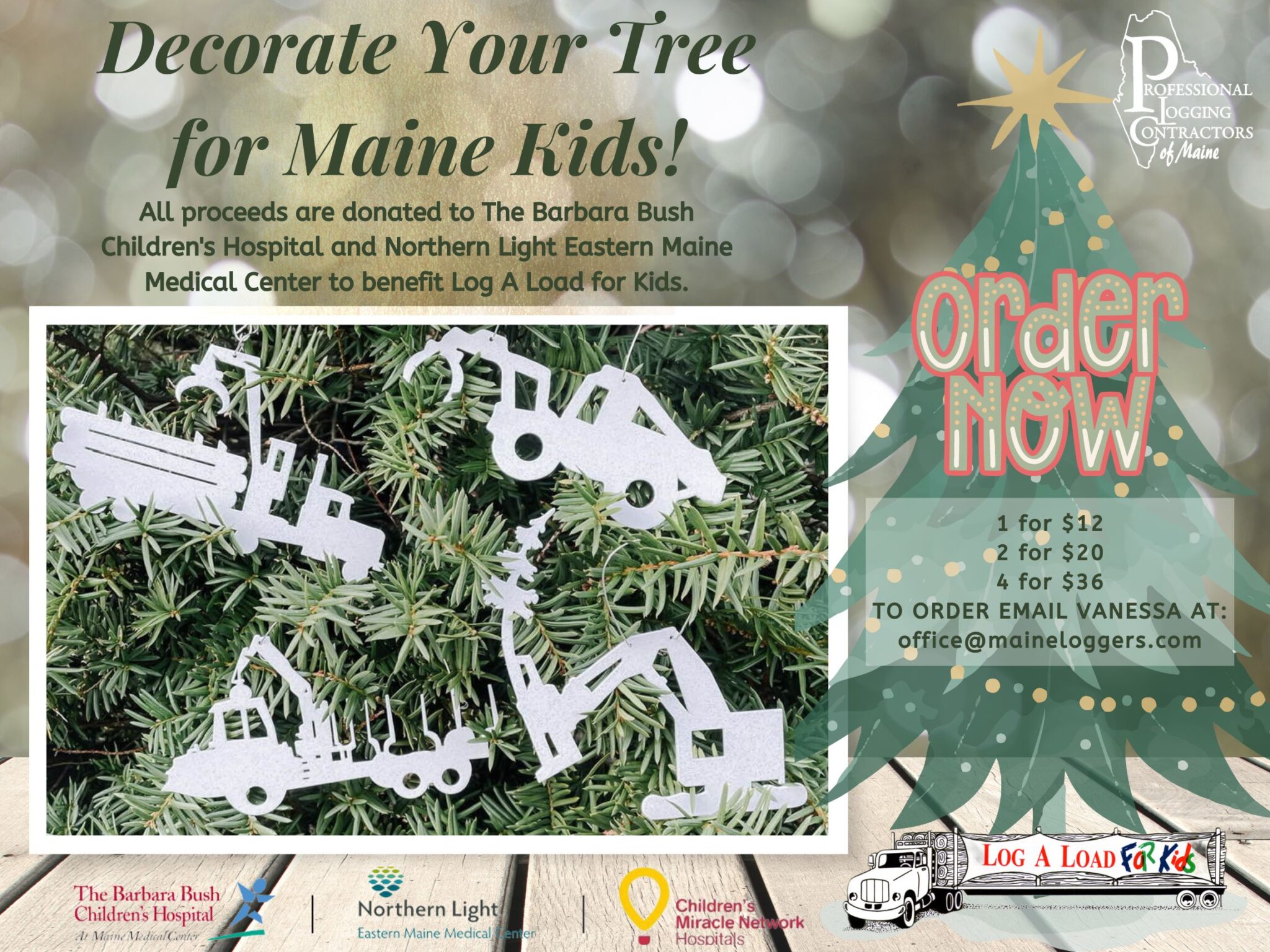 TRUCKING DISCOUNTS THROUGH THE ALC!
PLC Members, because the PLC is a member of the American Loggers Council YOU are entitled to special discounts on truck purchases! Click on the brand names below to learn more!
—
Fabian Oil Discount
Traction Heavy Duty Special
Wallingford's Discounts
Maine Trailer Discounts
PLC Members get a 5% discount on culverts purchased at Treeline and Frank Martin & Sons
Hale Trailer discounts for PLC Members on new trailer purchases! Call Neal at 207-232-7969 for details!
Cross Arena Discounts for PLC!

Check out the equipment and job opportunities our members have listed at the LOGGING ZONE! If you have equipment for sale, are looking to buy, are looking for employees, or
Preferred Supporting Members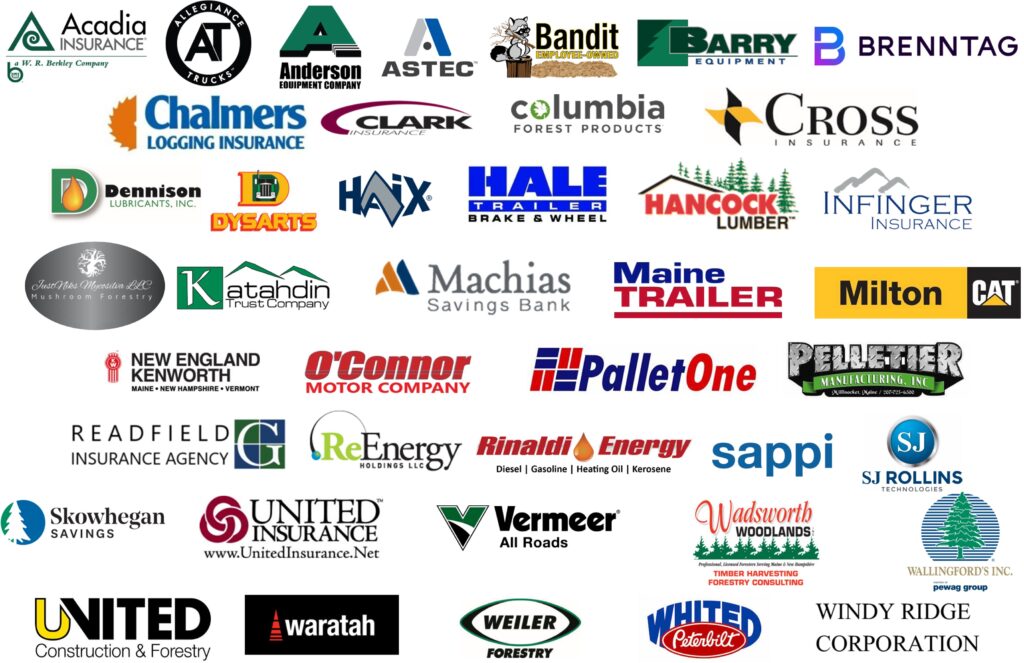 Enhanced Supporting Members