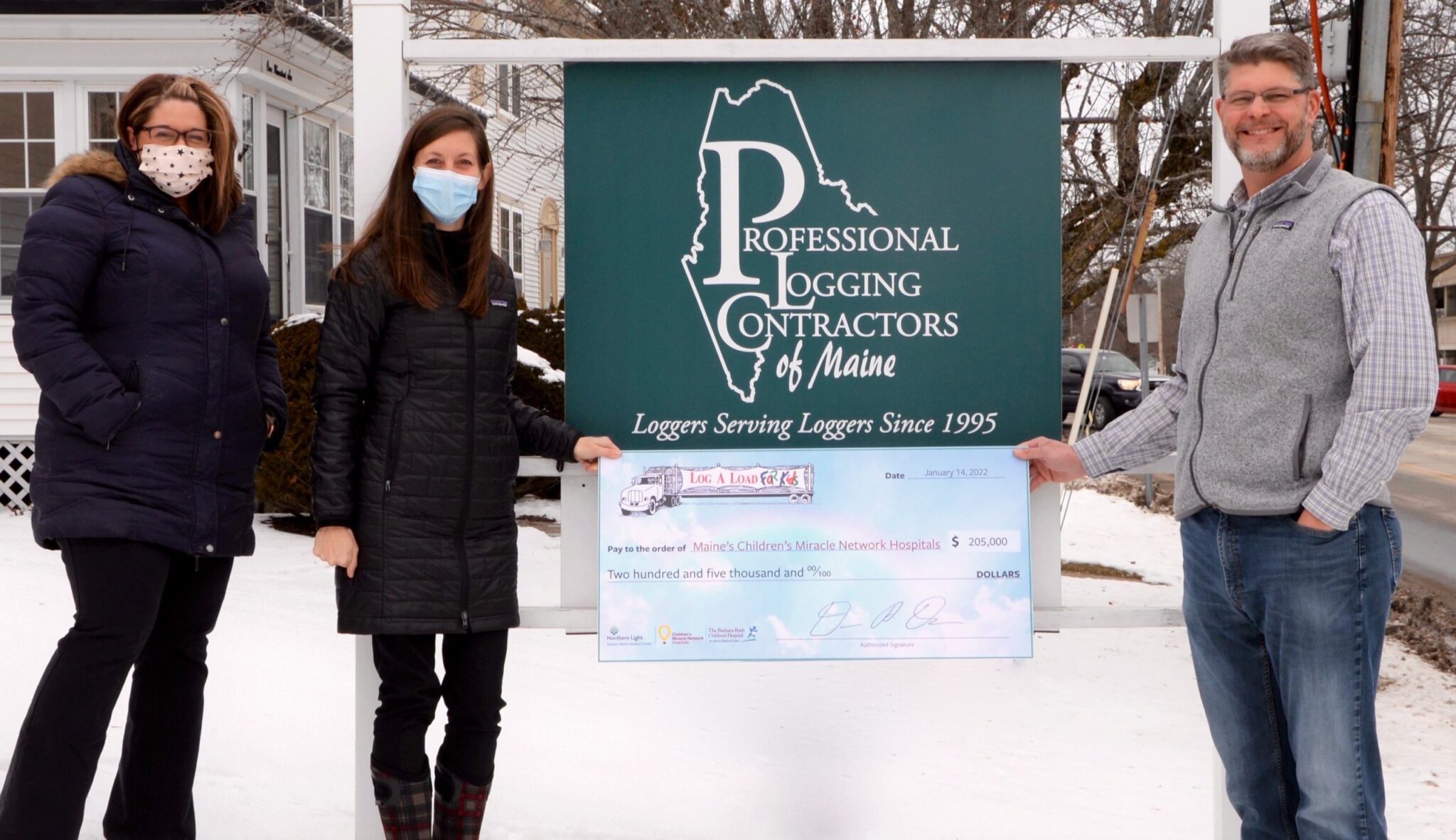 AUGUSTA – The Professional Logging Contractors (PLC) of Maine raised a record $205,000 for Children's Miracle Network Hospitals in Maine in 2021 through its annual Log A Load for Maine Kids fundraising efforts.
The total shattered the previous record set in 2020 of $136,716, with the PLC's two Log A Load golf tournaments and the annual Log A Load live auction at the PLC's annual membership meeting hitting new records in 2021.
"It is frankly amazing that despite the challenges of the COVID-19 pandemic and rising expenses in the logging industry, PLC's Members, Supporting Members, friends, and families have rallied so strongly to raise a new record amount for Children's Miracle Network hospitals," Dana Doran, Executive Director of the PLC, said. "Time and time again this group has exceeded all expectations and pulled together for this cause."
Today, Doran presented a check for the funds to representatives from Northern Light/Eastern Maine Medical Center in Bangor and The Barbara Bush Children's Hospital at Maine Medical Center in Portland. The check was presented at the PLC's office in Augusta.
Those accepting the check on behalf of the hospitals were Kelly Pearson, Director of the Children's Miracle Network Hospital program at Northern Light Health, and Kate Richardson, Children's Miracle Network Senior Philanthropy Manager for Barbara Bush Children's Hospital (BBCH).
"The logging community is the heart of Maine, and it's truly heartwarming and inspiring to see the impact the community is having on kids' health. We are truly appreciative for the continued support. It's invaluable to our hospitals, especially during these challenging times. We are so grateful to be touched by the kind hearts and generosity of so many. Thank you," Pearson said.
"It's no secret what our hospitals are experiencing due to the ongoing pandemic. To see such an astounding show of support for the Log A Load for Kids program this past year sends the message to our young patients, families and hardworking care team that the logging community is here for them. It's hard to imagine a more important time for our children's hospitals to feel that support and we're truly grateful," Richardson said.
The PLC raises the majority of Log A Load funds during an auction at its annual membership meeting – normally held in the spring but in 2021 postponed until fall due to the pandemic – and at golf tournaments in Lovell and Lincoln in August and September. This year all three events were held in person. COVID-19 precautions were followed in accordance with local and national health and safety guidelines.
The PLC partners with the Barbara Bush Children's Hospital and Northern Light Health Foundation for its annual Log A Load fund drive. BBCH in Portland and Northern Light's Eastern Maine Medical Center in Bangor are Children's Miracle Network Hospitals.
The PLC and the Northern Light Health Foundation (formerly Eastern Maine Health Systems Foundation) have partnered in the Log A Load fund-raising effort since 1996. Donations have gone to support research and training, purchase equipment, and pay for uncompensated care, all in support of the mission to save and improve the lives of as many children in Maine as possible. Eastern Maine Medical Center in Bangor includes a Neonatal Intensive Care Unit that has received support for years from the PLC's Log A Load efforts. In 2019, the PLC expanded its efforts by partnering with The Barbara Bush Children's Hospital in Portland as well.
The PLC's Log A Load efforts have raised more than $1.5 million since 1995.
The South Carolina Forestry Association started the Log A Load for Kids program in 1988. Originally, the concept was for loggers, wood-supplying businesses, and other industry supporters in various states including Maine to donate the value of a load of logs to their local Children's Miracle Network Hospitals.
Nationally, Log A Load for Kids is a leader in CMN Hospitals' fundraising, raising more than $2 million annually through golf tournaments, fishing events, dinners, truckloads of log donations and other events.
For more information, please visit www.logaload.org.