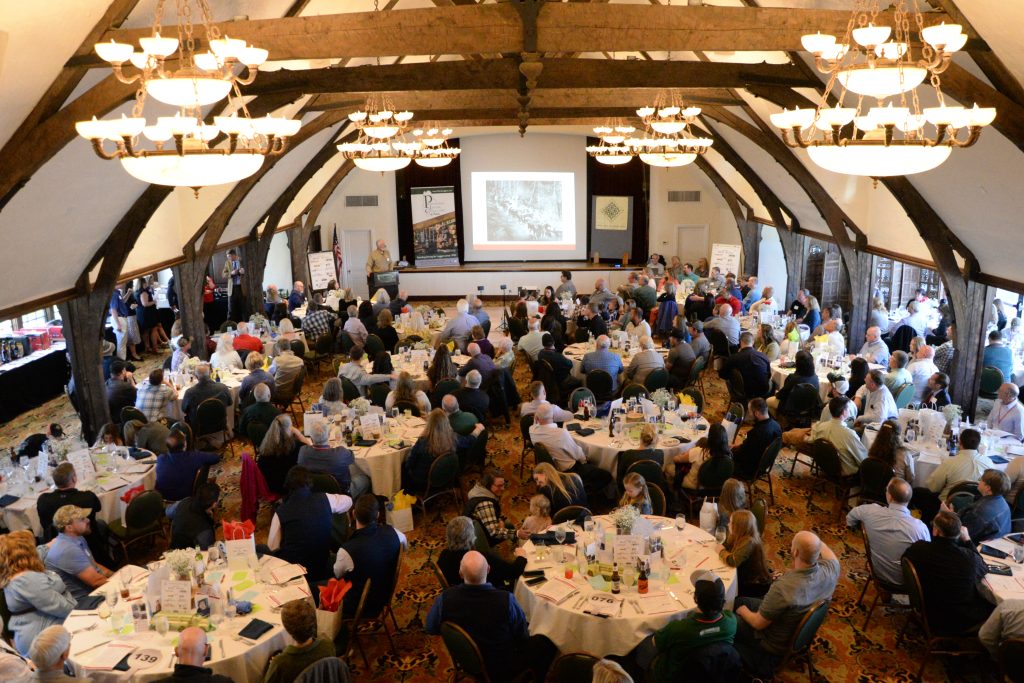 $127,723 raised for Children's Miracle Network Hospitals. Awards presented to businesses, individuals, and legislators
BAR HARBOR – The Professional Logging Contractors (PLC) of Maine held its 28th Annual Meeting May 4-5, raising $127,723 for Log A Load For Maine Kids and presenting awards to businesses, individuals, and legislators from across Maine for their contributions to the logging industry.
The meeting was held at the Bar Harbor Club in Bar Harbor, ME., with a record 222 adults and 16 children attending. Honored guests at the event included Maine Congressman Jared Golden and retired New England Patriot Pete Brock.
"Once again this special group has come through for the families served by our Children's Miracle Network hospitals in Bangor and Portland, and we are proud to note that this is the largest attendance for our Annual Meeting yet," Dana Doran, Executive Director of the PLC, said. "As the logging industry gets tougher this group just gets stronger and continues to exceed expectations in every way, and we are grateful to everyone who made this year another success."
For the first time, the Annual Meeting spanned two days, with a new event – Log A Load & Lobster – held on May 4 to raise additional funds for Children's Miracle Network (CMN) Hospitals in Maine. The event was organized and funded by PLC Member Duane Jordan of Elliott Jordan & Son and his family. Attendees traveled by bus from Bar Harbor and toured Downeast renewable energy and blueberry fields owned by the Jordans, visited area landmarks, and finished with a lobster dinner at Elliot Jordan & Son. The proceeds from the day all went to support this year's Log A Load for Maine Kids effort.
The second day included a business meeting and presentations for all PLC Member contractors in the morning, with board and officer elections. A noon luncheon was held with speakers including Congressman Golden; American Loggers Council (ALC) Executive Director Scott Dane; and ALC President Andy Irish of Irish Family Logging in Peru, Maine.  
The evening events included the traditional Log A Load for Maine Kids Auction, dinner, and the PLC awards ceremony. PLC's special guest for the evening, Pete Brock, an offensive lineman with the Patriots from 1976 to 1987, including the 1986 Bears-Patriots Superbowl XX game, took part in the auction and donated the two shirts he was wearing to the auction to help raise money, a gesture that was much appreciated by the crowd.
Awards were presented to the following individuals and organizations during the evening portion of the event:
PLC Logger of the Year Award: This award recognizes a PLC Logging Contractor for their commitment to the sustainability of the industry and logging as a profession. The winner this year is: W.W. London Woodlot Management Co. of Milo.
PLC Impact Awards: Each year, the PLC recognizes persons or organizations from the public sector who have demonstrated a commitment to the industry and made a significant impact for its improvement. This year the award goes to: The Maine Forest Rangers and Maine State Senator Brad Farrin of Norridgewock.
PLC Community Service Award: This award is given annually to a PLC member, Supporting Member or affiliated organization that has demonstrated a significant commitment to giving back to their community. The winner this year is: Mike Conway of Oxford, Massachusetts.
PLC Supporting Member Award: The PLC Supporting Member of the Year Award is presented annually to a PLC Supporting Member that has demonstrated an unprecedented commitment to logging contractors in Maine. The winner this year is: Chalmers Insurance Group of Bridgton.
PLC President's Award: The President's Award is presented to individuals or organizations within the PLC which have a significant and positive impact on the PLC and the logging industry in Maine. The winner this year is: Andy Wood of Hampden.
The Annual Meeting is one of the PLC's major fund-raisers to benefit CMN hospitals in Maine. Last year the PLC raised a record $262,403 by the end of 2022 for the cause. With this year's funds raised so far, the total raised by the PLC for Log A Load since 1995 has surpassed $2 million. The PLC's two Log A Load golf tournaments will be held in August and September.
The PLC partners with the Barbara Bush Children's Hospital (BBCH) and Northern Light Health Foundation for its annual Log A Load fund drive. BBCH in Portland and Northern Light in Bangor are CMN Hospitals.
The PLC and the Northern Light Health Foundation (formerly Eastern Maine Health Systems Foundation) have partnered in the Log A Load fund-raising effort since 1996. BBCH joined the Log A Load effort in 2019 and all donations have gone to support research and training, purchase equipment, and pay for uncompensated care, all in support of the mission to save and improve the lives of as many children in Maine as possible. BBCH and Northern Light in Bangor both have a Neonatal Intensive Care Unit that has received support for years from the PLC's Log A Load efforts.
Maine's loggers are a vital part of the state's forest products sector, which is worth an estimated $7.7 billion annually. Logging contributed an estimated $582 million to the state economy in 2021.
Founded in 1995 with a handful of members who were concerned about the future of the industry, the PLC has grown steadily to become a statewide trade association which provides independent logging contractors and truckers a voice in the rapidly changing forest products industry. Board membership consists of only loggers, making it an organization that is run by loggers on behalf of loggers. PLC members are responsible for cutting 75 percent of the timber that is harvested from Maine's forests annually.