Since 1995, the PLC has been the voice of Maine's logging industry
The PLC is Maine's only trade organization which exists to give independent logging contractors a voice in the rapidly changing forest industry.
PLC Annual Meeting 2023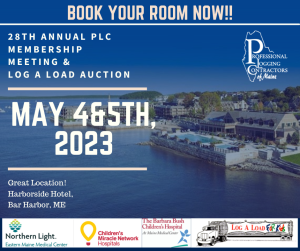 It is not too early to start thinking about the 2023 PLC Annual Meeting and Log A Load Auction! The meeting will be held May 4-5 2023 at the Harborside Hotel in Bar Harbor. Rooms are already available to book so why not reserve a room now?
Click here to book a room or use: https://www.opalcollection.com/harborside/stay/
PLC Legislative Breakfast 2023
AUGUSTA – The Professional Logging Contractors (PLC) of Maine raised a record $262,403 for Children's Miracle Network Hospitals in Maine in 2022 through its annual Log A Load for Maine Kids fundraising efforts. The total shattered the previous record set in 2021 of...
read more